Land Yoga Retreat Nosara, Costa Rica 7D/ 6N
Highlights: beaches, rainforest, cloud forest, wildlife
Activities: yoga, canopy zip line, sea turtles, horseback riding
Cost: $1,850*
With enchanted cloud forest, hummingbird & butterfly gardens, and the longest canopy zip-line in the region, Monteverde draws backpackers, birders, eco-adventurers to its unique ecosystem set in the northern highlands of the country.
Also known as the yoga capital of the country, Nosara is the ideal destination for yoga travel in Costa Rica. With stretches of unspoiled coastline, inspiring sunsets, and a community oriented towards holistic health and well-being, Nosara welcomes yogis of all walks of life to its magical shores.
Escapitos is proud to host Lara Land and Land Yoga for an incredible week-long retreat in Costa Rica complete with daily yoga sessions, healthy farm to table meals, and activities focused on experiencing life to the fullest in this natural paradise. Namaste.
WHATS INCLUDED
2 nights accommodation at Hotel Belmar in Monteverde
4 nights accommodation at Bodhi Tree Yoga Resort in Nosara
domestic transfers between Liberia International Airport (add $150 round trip for San Jose airport), Monteverde, and Nosara
3 farm to table meals per day (primarily vegetarian)
daily yoga / guided meditation
monteverde canopy zip line tour
nosara surf lesson
sunset horseback riding
ostional turtle obervation
Whats Not Included
International airfare to and from Costa Rica
Additional tours
Alcoholic and specialty drinks
Gratuity (usually 10%)
Options & Upgrades
mangrove kayaking tour
catamaran sailing tour
stand up paddle board
coffee tour
selvatura eco-adventure park
voluntour activity / donation (local school or wildlife refuge)
single accommodation and private bath
airport transfer from San Jose
Sample Itinerary
Day 1 - Arrive at Liberia's Daniel Oduber Quiros Internationl Airport in northern Guanacaste by late afternoon. A scenic three to four hour drive into the northern highlands brings you to your first destination in Monteverde. Orientation and group dinner upon arrival.
Overnight: Hotel Belmar (D)
Day 2 - After breakfast, hike through the fairy tale cloud forest of Curi Cancha wildlife reserve with opportunities to various species of colorful and vibrant birds like the Resplendent Quetzal. Meet back at the hotel's yoga studio for a lesson before lunch. The afternoon is free to explore the small towns of Monteverde and Santa Elena, rest and relax in a hammock on your hotel balcony, or enjoy one of the many optional activities offered in the region including coffee tours, horseback riding, or a visit to Selvatura with its butterfly & hummingbird gardens serpentarium, insect exhibit, and hanging bridges!
Overnight: Hotel Belmar (B, L, D)
Day 3 - Conquer your fear and soar to new heights as you fly through the trees on a series of heart pounding zip-lines set high above the cloud forest canopy. Stretch it out with a yoga session back at the hotel followed by lunch. A scenic drive down from the highlands of Monteverde and west towards the coast, brings you to the town of Nosara. Arrive in time to enjoy a breathtaking sunset before dinner and then time to rest after a day of travel.
Overnight: Bodhi Tree Yoga Resort (B, L, D)
Day 4 - After breakfast learn to surf with a lesson taught by top local instructors. Afterwards take some time to enjoy Guiones Beach, the most popular and accessible in the area, with a swim, walk, or nap on its soft champagne sands. As the day come to an end join the group for late afternoon yoga on the beach before heading back to the hotel for dinner.'
Overnight: Bodhi Tree Yoga Resort (B, L, D)
Day 5 - Enjoy your morning yoga session in the hotel's open air studio with 360 views of the surrounding rainforest. After lunch, take some time to wander into town and browse the local artisan shops. As the day draws to a close, witness another spectacular sunset while riding horseback along the pristine coastline backed by a tapestry of red, yellow, orange, and purple sky.
Overnight: Bodhi Tree Yoga Resort (B, L, D)
Day 6 - Your day is free to enjoy one of many optional activities offered in the area including mangrove kayaking, birdwatching, rainforest hikes, stand up paddle board, additional surf lessons, and more! Rejoin the group as the sun sets for the "arribada" or mass arrival of olive ridley sea turtles as they nest along the beaches of nearby Ostional.
Overnight: Bodhi Tree Yoga Resort (B, L, D)
Day 7 - Goodbyes and transfer back to Liberia for departure flight home.
(B)
AccoMmodations
Bodhi Tree - Stylish bungalows set on 8 acres of stunning gardens and majestic rainforest of Nosara. Bodhi Tree has standard single, double, and triple rooms with shared bath. Rooms may be upgraded to Deluxe suites with private bath. The restaurant boasts delicious buffet style meals with healthy options created from the local landscape. The hotel has a large 360 degree view open air yoga studio that can accommodate up to 40 guests at once! Amenities include 25 meter salt water lap pool, juice bar, and spa. The beach is only a short walk away down a jungle path!
Costa Rica Yoga Spa - Another top choice in the region for yoga retreats. Situated in the hills just behind the pristine coastline, the hotel boasts some of the most impressive views of the coast. Accommodations carry a natural rustic charm with beautiful structures made of local hardwood. Rooms are spacious and clean complete with balconies with panoramic views of the ocean and river basin. 50 foot open air yoga rancho constructed of local teak wood offers additional sweeping viewsand serves as can accommodate up to 30 students comfortably at once. Amenities include a dipping pool, WiFi, hammocks, maid service, and restaurant serving mostly vegetarian, organic, locally produced meals.
Ahkii - Set in the heart of the jungles of Guanacaste, Ahki blends seamlessly into the natural landscape of this coastal paradise. Simple elegance may be best to describe the spacious cabins with private baths, unique indoor/outdoor showers, as well as open air decks and patio space to enjoy the scenic views. The 750 square ft open air pavilion overlooking the ocean, mountains, and valley below is perfect for yoga sessions. Restaurant serves farm to table vegetarian meals. Additional amenities include salt water affinity pool, fire circle, and library. Ahki is a little farther from the beach than the two options listed above, but makes up for it with its experience of total immersion in and oneness with nature.
Hotel Belmar - Nestled in the majestic highlands of northern Costa Rica, Belmar is one of the top lodging options for visitors to Monteverde and Santa Elena. Seemingly dropped into the middle of the cloud forest, the hotel offers elegance, hospitality, and natural beauty with services and amenities that include an onsite restaurant as well as spa. The yoga studio fit 14 students with instructor comfortably and encourages travelers to bring their own mats. Belmar is located within reasonable distance of many if not all activities and attractions region as most hotels in the hills require a 5-10 minute taxi ride to any place the center of town.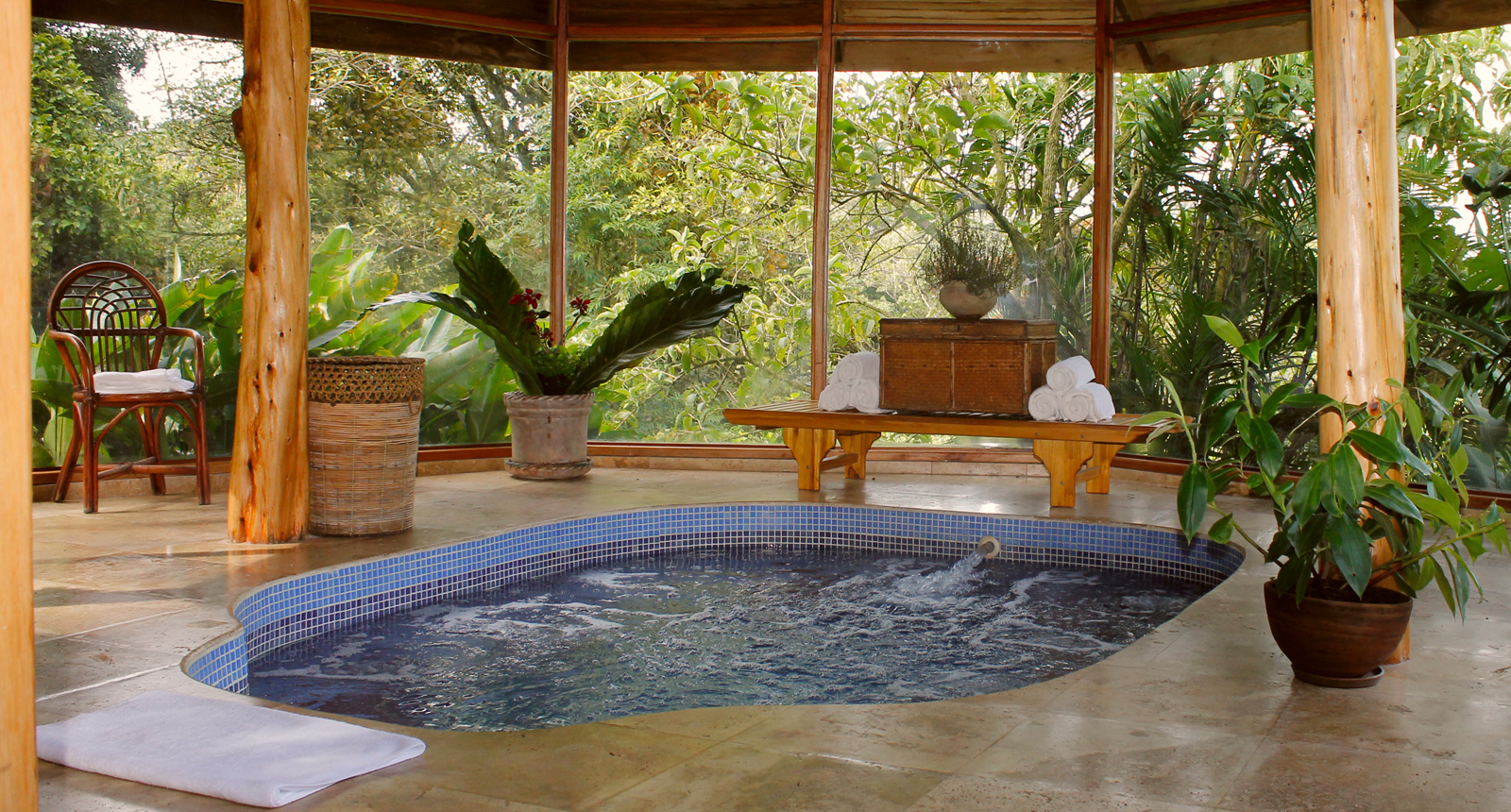 Trip Cost
from $1,850*
Price based on 15 person group.
Prices are listed per person based on double and triple occupancy with shared bath.
Prices reflect $250 payment (per person) for yoga services paid to instructor.
Prices do not reflect/include Escapitos Guide / Host services (add $100 per person)
Lodging, meals and activities are complimentary for one group leader/instructor.
Please contact michael@escapitos.com or escapitos@gmail.com to modify itinerary, get an official quote, or book this trip now. 30% deposit is due at time of booking with remaining balance due 30 days prior to departure. Specific deposit and payment schedule outlined in official quote. You may also contact us toll free at 800.343.0217.